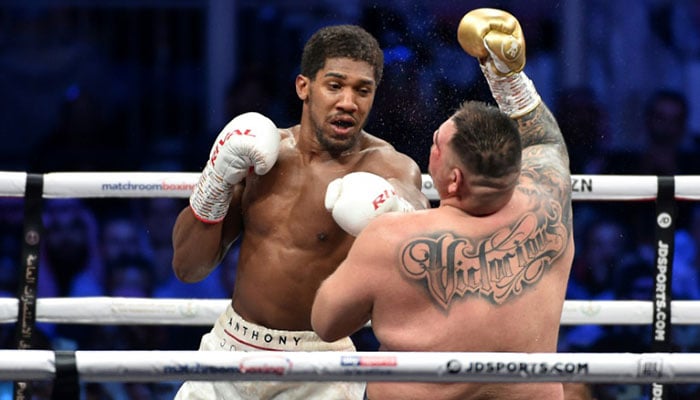 Fighter Anthony Joshua hits out at 'infection' of prejudice
Heavyweight champion Anthony Joshua told a Black Lives Matter walk in London on Saturday that nonconformists were the "antibody" to the "infection" of bigotry.
"The infection I am alluding to is called prejudice," he stated, contrasting its belongings with the harm done by COVID-19.
In the interim the British fighter asked: "To what extent would we say we will permit prejudice to spread through our networks?"
Overall fights under the standard of Black Lives Matter occurred Saturday in light of the demise of George Floyd, a dark American man who kicked the bucket in Minneapolis a month ago while being captured by cops.
"You are the antibody, I am the immunization," the 30-year-old Joshua told a convention in his old neighborhood of Watford.
"Slaughtering an individual out and out is indefensible, yet stripping them of their human rights, abusing them, deriding them, offending them, putting discriminatory limitations above them... is only a more slow method of murdering them and ending the life out of their spirit."
Joshua was on bolsters now and again on Saturday and was additionally observed wearing a knee support, however a representative demanded that was only a "prudent step".
Joshua, the ruling WBA, IBF and WBO title-holder, felt a "slight twinge" in his left knee in an instructional meeting prior this week.
In any case, his camp demanded there was no reason to get excited.
"Anthony felt a slight twinge in his knee while preparing," the representative said.
"The support is a careful step on the guidance of physios. It will be additionally checked by his PCPs yet there is no prompt concern."
Joshua was expected to guard his belts against Kubrat Pulev at Tottenham Hotspur Stadium on June 20 just for the session to be deferred in light of the coronavirus pandemic
#Fighter Anthony Joshua hits out at 'infection' of prejudice
#Latest News