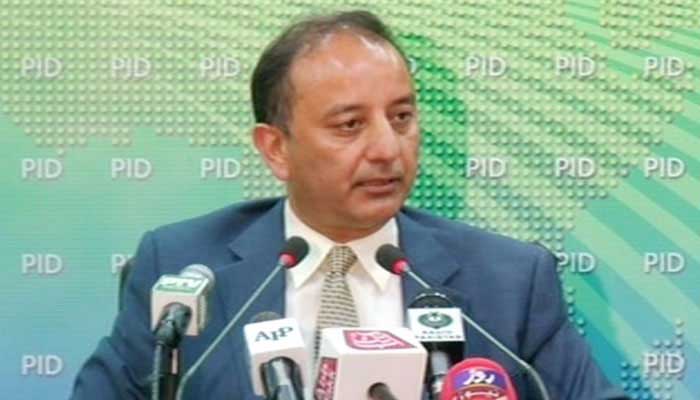 PIA plane accident: PML-N's Musaddik Malik apologizes for 'harsh speech' against columnist
Pakistan Muslim League-Nawaz (PML-N) Senator Musaddik Malik got involved into a contention after he said on national TV that a specific columnist "ought to be determined to fire" for not being aware enough towards survivors of the PIA plane accident disaster.
"This Tahir [the journalist] sahib, I don't have the foggiest idea what his identity is. It is safe to say that he is the top of some association? He went ahead TV and said that our worldwide picture is being demolished [by the disclosure of profound established issues in PIA]," the representative said in a video cut which has now turned into a web sensation via web-based networking media.
"We should toss such a universal picture into the fire and we should burn down Tahir sahib who came [on TV] and said something like this and made a joke of us all," a chafed Malik could be heard saying.
"Our plane smashed, would it be a good idea for us to not direct an examination and if there is a disappointment would it be advisable for us to not follow whoever fizzled? Should we not do an underlying driver investigation?," he addressed.
Tahir Imran, an insightful journalist with the BBC, in a post on Twitter got out Malik for his comments.
"I've quite recently been assaulted on live TV appear by this man Musadik Malik who incited brutality against me to "consume me alive". I am shaking in the wake of hearing this despise filled and horrible remark from this man who speaks to PML-N. Is this what PML-N depend on Maryam Nawaz Sharif," Imran said in his tweet.
I've just been attacked on live tv show by this man

@DrMusadikMalik

who instigated violence against me to "burn me alive". I am shaking after hearing this hate filled & vicious comment from this man who represents PMLN. Is this what PMLN stands for

@MaryamNSharif

?

— Tahir Imran Mian ✈ (@TahirImran) June 26, 2020
To this, the PML-N pioneer reacted that he profoundly lamented utilizing the harsh speech.
"Dear Tahir, I just observed the clasp. I profoundly lament utilizing harsh speech without giving it much thought. A companion was scorched bursting at the seams with hundred others in the flight. We as a whole grieve!," he said.
Malik included, "A far reaching examination must be done, regardless of the picture, and main drivers must be expelled."
It's good to see that you have accepted your fault & apologized for the behavior. We can all disagree with respect. I respect your opinion & will defend your right to express it in civil manner.

My sympathy for your loss & I also want full, across the board inquiry. Thank you

https://t.co/Nzuxw0BCA0

— Tahir Imran Mian ✈ (@TahirImran) June 27, 2020
"It's acceptable to see that you have acknowledged your issue and apologized for the conduct," the writer reacted. "We would all be able to differ with deference. I regard your feeling and will safeguard your entitlement to communicate it in common way. My compassion toward your misfortune and I additionally need full, no matter how you look at it request. Much obliged to you."
262 pilots have 'questionable' certifications
Flight serve Ghulam Sarwar Khan had on Friday reported that the accreditations of 262 pilots in the nation are "questionable" and along these lines they will be banned from flying.
The pilots in the line of fire incorporate 141 from Pakistan International Airlines, nine from Air Blue and 10 from Serene Airline, said the pastor.
The remainder of the 262 have a place with flying clubs or sanctioned plane administrations, he said. He said all the aircrafts and the clubs had been passed on that: "Their accreditations are questionable, and they shouldn't be permitted to fly."
Counterfeit licenses of Pakistani pilots most phenomenal story in avionics: CNN
Sarwar's disclosures about the degree of the decay in the flying business sent off shockwaves around the globe.
CNN columnist Richard Quest on Friday said it was the most "uncommon" story in flight.
"It isn't pervasive somewhere else. This is the most uncommon story in flight. Questionable licenses. 'Counterfeit' licenses — how the examiners put it in the Pakistan airplane examination," he said.
In PIA, maybe 33% of its pilots didn't have the right authorizing, he noted.
Explaining the way that the pilots flying the as of late slammed airplane of flight PK-8303, had licenses, he stated: "There were a heap of different issues in the manner they were flying the plane."
He said that the way that a nation is conceding that there are questionable pilot licenses in the business aircraft segment "poor people conviction", including that it raises "some genuine inquiries" about the wellbeing of carrier activities in Pakistan.
Talking about somewhere else on the planet, he stated: "We have had detached situations where pilots have been flying for a considerable length of time on fashioned and obsolete [documents], yet they generally end up being awesome pilots who simply didn't have the correct administrative work. This isn't case, this is an instance of discount misrepresentation."
"Individuals flying that shouldn't have been flying — it's an embarrassment," he included.